Author and illustrator: Juana Martinez-Neal
Publisher: Candlewick, 2018
Description (from publisher): What's in a name? For one little girl, her very long name tells the vibrant story of where she came from — and who she may one day be. If you ask her, Alma Sofia Esperanza José Pura Candela has way too many names: six! How did such a small person wind up with such a large name? Alma turns to Daddy for an answer. 
Author and illustrator: Yangsook Choi
Publisher: Dragonfly Books
Description (from publisher): The new kid in school needs a new name! Or does she? Being the new kid in school is hard enough, but what about when nobody can pronounce your name? Having just moved from Korea, Unhei is anxious that American kids will like her. So instead of introducing herself on the first day of school, she tells the class that she will choose a name by the following week. Her new classmates are fascinated by this no-name girl and decide to help out by filling a glass jar with names for her to pick from.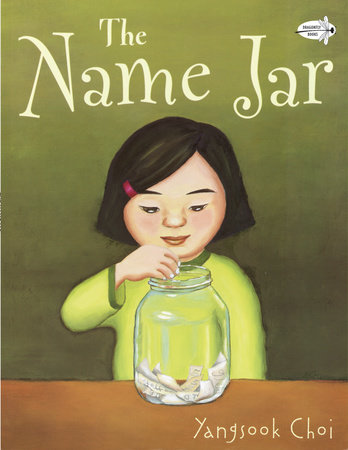 Author: Alma Flor Ada
Illustrator: K. Dyble Thompson
Publisher: Atheneum Books for Young Readers, 1995
Description (from publisher): For María Isabel Salazar López, the hardest thing about being the new girl in school is that the teacher doesn't call her by her real name. "We already have two Marías in this class," says her teacher. "Why don't we call you Mary instead?" But María Isabel has been named for her Papá's mother and for Chabela, her beloved Puerto Rican grandmother. Can she find a way to make her teacher see that if she loses her name, she's lost the most important part of herself?
Author: Sheetal Sheth
Illustrator: Jessica Blank
Publisher: Mango and Marigold Press, 2018
Description (from publisher): Anjali and her friends are excited to get matching personalized license plates for their bikes. But Anjali can't find her name. To make matters worse, she gets bullied for her "different" name, and is so upset she demands to change it. When her parents refuse and she is forced to take matters into her own hands, she winds up learning to celebrate who she is and carry her name with pride and power.
Author: Sherman Alexie
Illustrator: Yuyi Morales
Publisher: Little, Brown Books for Young Readers, 2016
Description (from publisher): Thunder Boy Jr. wants a normal name…one that's all his own. Dad is known as big Thunder, but little thunder doesn't want to share a name. He wants a name that celebrates something cool he's done like Touch the Clouds, Not Afraid of Ten Thousand Teeth, or Full of Wonder.
*Please read this discussion about the book before you decide to use it. I still recommend it, but keeping in mind those comments and putting it in context when necessary.